Benish GPS and the fastest electric car in the world. Tesla models presentation
The first electric car predated the internal combustion engine and was not originally designed to solve environmental problems. With the technological progress the humanity started to think about the depletion of natural resources and the danger of exhaust gases. Thanks to the American car company Tesla Motors, it's not necessary anymore to choose between practical and environmentally friendly transport.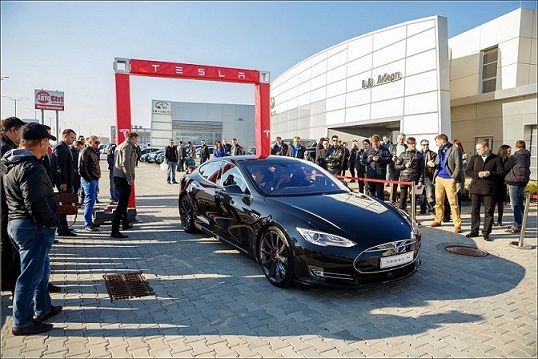 On October, 31 "ViDi AutoCity" presented to the public the fastest standard electric car in the world – Tesla Model S P85D. Benish GPS company was one of the partners of this presentation. Guests of the event could not only observe what was happening, but also took part in a test drive and felt like a car with a lithium-ion battery accelerated to a speed from zero to 100 km per hour in just 3.1 seconds. Furthermore, car's electric power reserve is more than 400 km and, hence, does not require frequent charging. A beautiful and fast car left nobody indifferent. In addition to the presentation of Tesla, visitors were offered an exclusive test-drive of luxury range brands: Acura, Toyota, Lexus, Jaguar, Land Rover, Infiniti. There were also other surprises for the guests – the partners of the event raffled prizes as the results of the lottery, including automobile anti-theft systems BENISH GUARD from Benish GPS company.
Tesla Motors is not just an automaker, but also a revolutionary in the field of energy innovation and design, and Tesla Model S creation – the most powerful standard electric car in the world. Besides the fact this car is environmentally friendly, it is considered the safest in its class.
The demand for electric vehicles is growing, probably these cars are our future and we can start to prepare for it today. The head of Tesla Motors Elon Musk has an answer for skeptics – he provides an example of the other car reformer:  "When Henry Ford made cheap, reliable cars people said, "Nah, what's wrong with a horse?". That was a huge bet he made, and it worked".
Benish GPS monitors trends in a rapidly evolving technology, so BENISH GUARD is not just a car alarm, it's a satellite security system, which will prevent any attempt to take over your car. Benish GPS has a round the clock dispatching center to ensure maximum safety of the car and instantly respond to alarms. By installing anti-theft system BENISH GUARD, you have not to worry about the safety of your car.