Elite protection for premium class car

Sometimes a car becomes something more than just a vehicle. Style and comfort – that's what distinguishes such cars among the rest and makes this category special. Obviously, a standard anti-theft system won't be enough  for premium cars. Exactly taking into the account special expectation of such cars owners, Benish GPS company presented the configuration of the most popular satellite security system Benish GUARD – ELITE.
Benish Guard ELITE is designed for business and premium cars. The configuration includes such functions as entering the personal code of the car owner to deactivate the security mode (or the presence of a driver's mark), an alarm if the ignition is turned on bypassing the standard systems, responding to unauthorized opening of the doors, hood or trunk and an alarm button for emergency communication with the dispatching center. A distinctive feature of the system is the ability to react even to the smooth extrusion or breaking of glass and prevent penetration into the auto bypassing the standard systems. Along with this, system recorded any movement inside the car, impacts and towing attempts.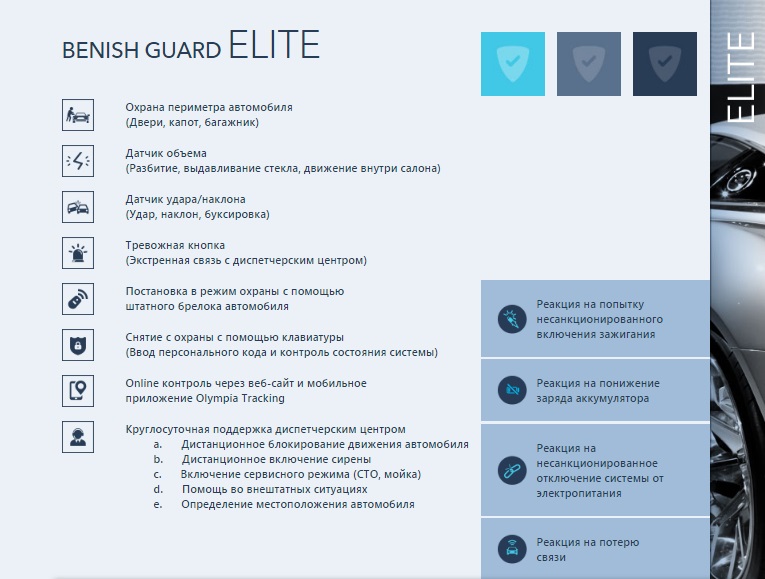 Notifications of unauthorized actions immediately is proceeded in the dispatch center of Benish GPS. Dispatchers react not only in the case of car steal or damage attempts but also for reducing the battery charge to a critical level or loss of communication with the vehicle. The customer can always contact the dispatch center if his life is in danger, if necessary, remotely block the movement of the car, as well as in case of questions about the operation of the system.
With the help of the mobile application Olympia Tracking, the owner receives up-to-date information about the car's location, travel history and the current status of the systems online. The application was created for smartphones based on Android (Google Play) and iOS (App Store) and is available for free download.
Benish Guard ELITE is more frequently installed on Mercedes, BMW, Bentley, Ferrari, Infiniti, Land Rover and Lexus cars, and it is the best solution for all models of these brands. Ukrainian authorized auto dealer recommend to strengthen the car protection by Benish GUARD ELITE as the system meets all high European quality standards.