Revolution in the world of vehicle insurance. How does insurance telematics help insurers and insured to save?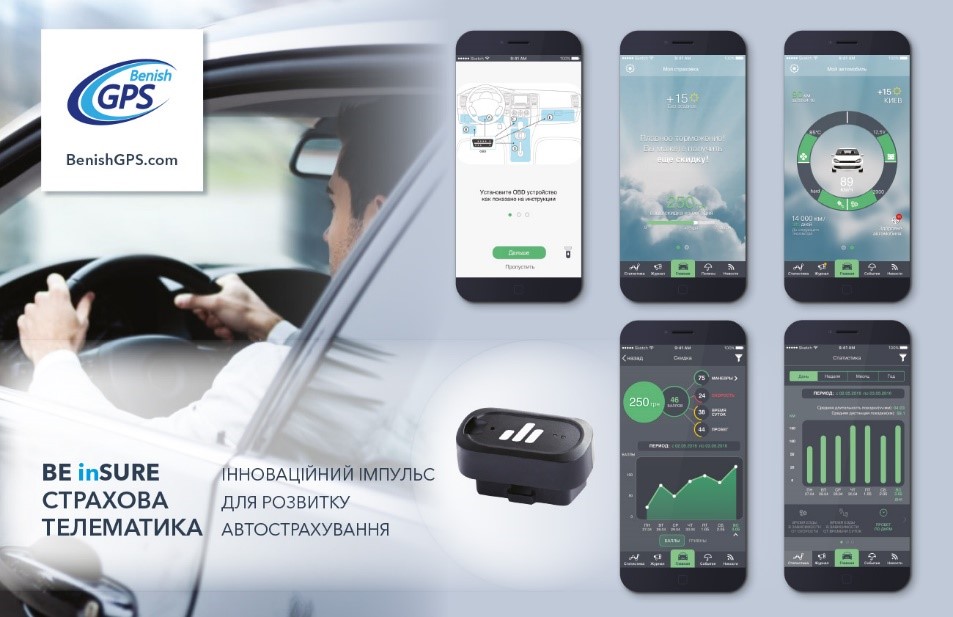 Digital economics creates not only the new services, but also radically changes the old ones. The evolution of wireless communication, big data and ubiquitous Internet transforms even such conservative fields as the insurance.
Standardized and often expensive insurance products give place to individual ones. The Western world already actively uses the Usage-Based Insurance (UBI), while Ukraine still lags behind.
The Insurance Telematics allows to collect the data of each car owner, including that of driving style, frequency of ridings and vehicle handling. Based on this, a personal schedule of rates with reduced cost of insurance is prepared. The special equipment – ironically called the 'black box' – processes readings of the odometer and speedometer of a car, as well as of the built-in sensitive 3D accelerometer. Insurance analysts receive a whole package of data on a driver's behavior: kilometer performance, time of day, hard braking or acceleration, curves on turns. In this way, the insurance premium is calculated – those who prefer fast and aggressive driving will pay more than a safe driver.
– Traditional vehicle insurance does not consider the driving style, which does not allow for objective assessment of the risk of each individual vehicle use. Thus, it is not possible to offer a particular client the best cost of CNC insurance.
– Telematics solutions based on registration of the driving style (UBI) allow insurance companies to create new products in the vehicle insurance market.
– Based on the driving style, clients receive a reasonable discount for CNC insurance. The risk of car accidents decreases due to formation of the culture of careful driving.
AMERICAN EXPERIENCE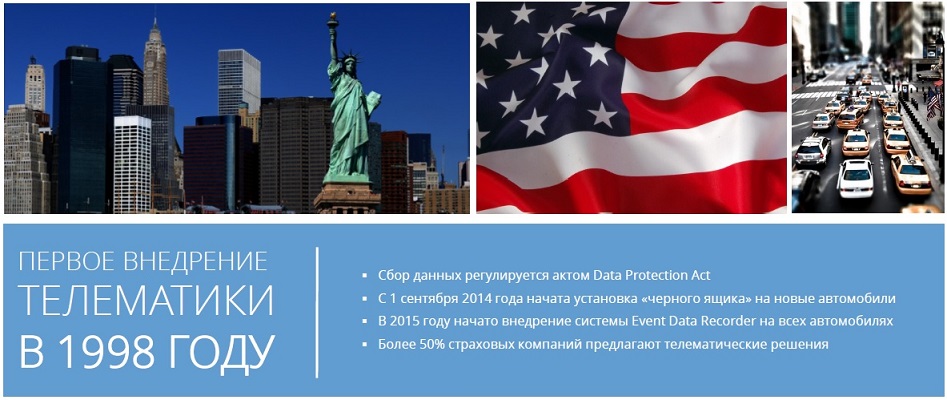 In the United States, they began to implement telematics in 1998. Since September 2014, a 'black box' has been recommended to be installed in all new cars. In the United States Event Data Recorder has been implemented since 2015, and currently more than half of insurance companies offer this kind of solutions.
Basically, the two principles of calculating the insurance premium are used – Pay-As-You-Drive and Pay-How-You-Drive. In USA and Europe millions of people already use these programs. According to analytic company ABI Research, the global market of insurance telematics will increase by 81% per year – 5.5 million of the insured drivers at the end of 2013 to 107 million by the end of 2018.
BRAZILIAN EXPERIENCE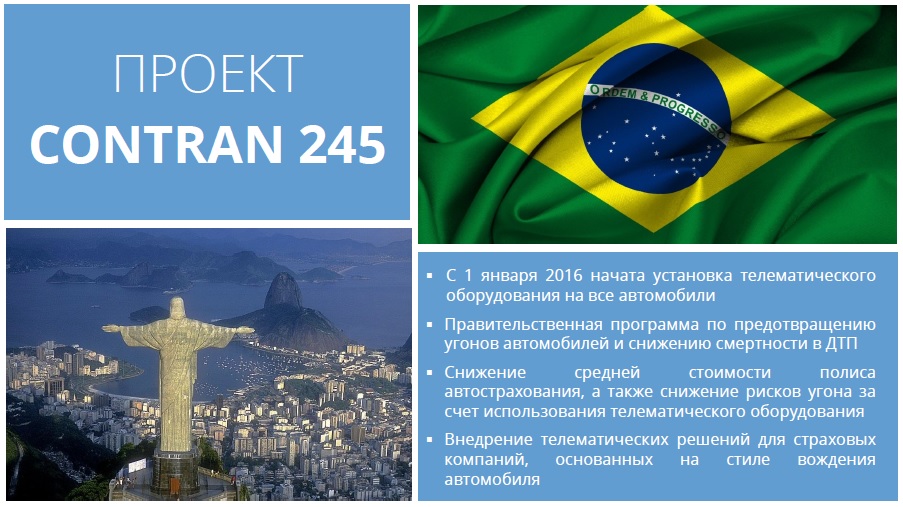 EUROPEAN EXPERIENCE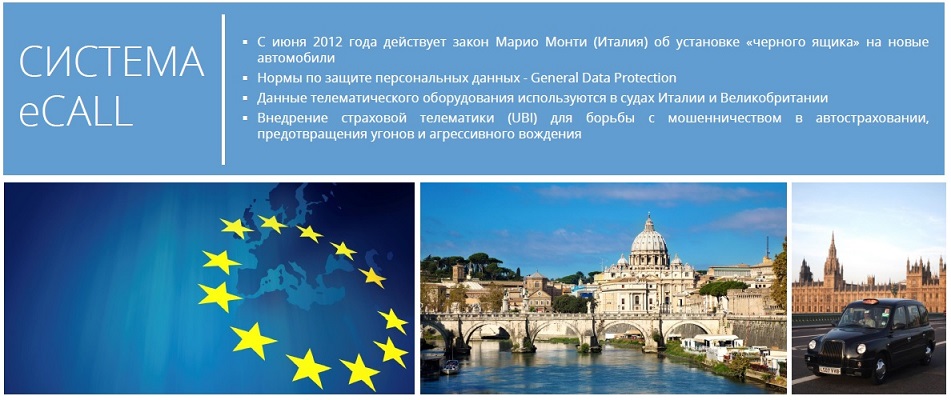 Europe is also actively involved in insurance innovation. In June 2012, Mario Monti Act (Italy) came into force – 'black boxes' are now installed in all new cars. Their data is used in the courts of the Great Britain and Italy, and the telematics itself is used to prevent insurance fraud, car theft and aggressive driving.
Competition among insurers will eventually lead to increase of drivers' safety, including through prevention of incidents. Improvement of service quality and customer loyalty will result in rapid growth of the market in the near future, says Dominique Bonte, the Vice-President of ABI Research.
In Ukraine, use of insurance telematics technology is at the initial stage. Insurers must be ready to work with a lot of information from 'black boxes', have powerful back offices, and, of course, have a special-purpose software, and not just the ordinary Excel. Therefore, successful introduction of telematics in Ukraine requires time and testing.
At the same time, the market itself requires innovations – in 2015 the number of CNC Insurance Contracts decreased by 26% compared to 2014, and the number of CNC Insurance Contracts concluded with individuals decreased even more – by 32%. Therefore, acquisition of the new clients and retaining of old ones require courageous steps.
One of such projects of interoperation of the technologies and insurance business is an offer of Benish GPS, which has developed a special solution for insurers of BE inSURE, which is a whole complex: telematics device, mobile application for drivers and data processing software, which will be useful for actuaries.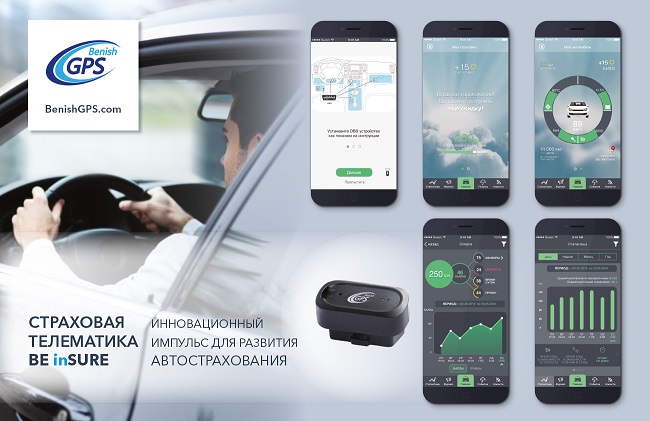 While Ukrainian insurers are deliberating, the global market, driven by the technological progress, is not waiting. According to Vladimir Gordeev, Chief Corporate Sales Officer of Benish GPS, in addition to the obvious benefits for insurers and car drivers, the insurance telematics has also a social effect. – 'In an effort to reduce the insurance premium, many drivers become more attentive and cautious, reducing the risks for themselves and for others. Is not the road safety our common goal?'.
ADVANTAGES OF TELEMATICS FOR INSURANCE COMPANIES
1. Ability to create new products based on Pay-As-You-Drive and Pay-How-You-Drive principles of insurance telematics
2. Individual risks assessment for each insured vehicle in order to develop personal schedules of rates
3. Increase of the probability of insurance fraud detection and elimination of false information about car accidents
4. Reduction of insurance companies costs due to clients' more careful driving
5. Creation and extension of loyalty programs by reasonable reducing of the insurance premium
6. Creation of an additional channel of communication with clients through a mobile app
ADVANTAGES OF TELEMATICS FOR THE INSURED
1. Personal control over the cost of insurance
2. Transparency of pricing and loyalty bonuses
3. Improvement of safe driving and, as a consequence, reduction of number and severity of car accidents
4. Ability to instantly transfer information about car accidents, including as part of European Accident Statement
5. Implementation of additional services for clients, such as immediate notification of an insurance agent of an insured event.