Opening of the international agro-industrial exhibition "Agro 2012"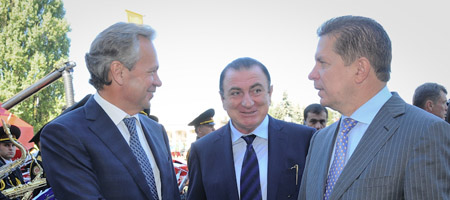 At the left — the Minister of an agrarian policy and the food of Ukraine Nikolay Prisyazhnyuk, on the center — the president of the Benish GPS Ukraine company Haim Benish
Today, on September 5, in Kiev in the National exhibition center the opening of the XXIV International agro-industrial exhibition "AGRO 2012" took place. The president of Ukraine Victor Yanukovych, the Minister of an agrarian policy and the food of Ukraine Nikolay Prisyazhnyuk, and also the President of the Benish GPS Ukraine company Haim Benish took part in the opening ceremony of this event.
The international agro-industrial AGRO exhibition is one of the largest exhibition actions of Ukraine, directed on involvement of agricultural producers to development and realization of state programs of development of agro-industrial complex branches as powerful sector of Ukraine economy.
This year more than 700 enterprises, firms, companies participate in an exhibition from 25 regions of Ukraine, and also foreign companies from 18 countries of the world. Expositions of participants will occupy about 10 thousand sq.m of the closed area in pavilions and about 50 thousand sq.m of an open exhibition area.
The Benish GPS Ukraine company within the AGRO 2012 exhibition will represent the special solutions for satellite monitoring and control of transport in the agro-industrial complex, which allow to control location of equipment in on-line mode, and also to control performance of set tasks and to realize remote control of the machinery.