Benish GPS in the international conference "Corporate Fleet. Effective management tools"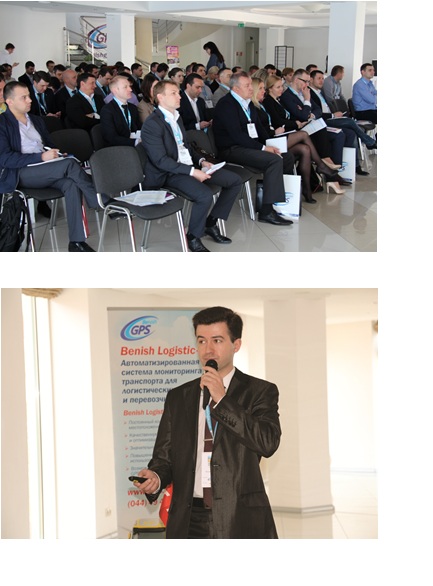 A conference "Corporate Fleet: Effective management tools" was successfully held in the "Golf Center Kyiv" on the 24th of April 2014.
The conference was held in the format of a lively discussion of topical issues with experts of fleet management market. The conference was attended by the companies which represent the innovative development and management solutions for commercial fleets, leading Ukrainian leasing and insurance companies, as well as representatives of interested in this category organizations.
The participants shared their experience in security matters (motivational programs, global experience of implementation the remote monitoring systems of company vehicles), choosing of corporate vehicle (the value for driver and business owner), as well as forecasts to 2020.
Thus within the framework of the conference several reports of the experts of Kraft Foods (Mondelēz International), Philip Morris Ukraine, Samsung Ukraine, Astra Zeneca, Pfizer, Sanofi Avensis etc. were presented.
 Vladimir Gordeev, Sales Director of Benish GPS made a presentation "Global experience of in-vehicle monitoring system implementation in corporate fleet". For this report Vladimir was awarded a Diploma "The most interesting and creative report". The speech of Sales Director of the Benish GPS company caused further lively discussion and positive customers feedback regarding the offered solution. Namely Benish EcoDriving is an in-vehicle monitoring system for the corporate fleet which also allows monitoring the transport and controlling the driving style and corporate security policies.
Moreover the representatives of Philip Morris and AVM were awarded with "The most useful" and "The most motivate" diplomas.
The conference was organized by Benish GPS (market leading operator of GPS monitoring systems), AVIS and AVM companies.
 The guests' testimonials:
"The Conference "Corporate Fleet. Effective management tools" is the first such event. We hope that this initiative will become a yearly good tradition of sharing the experience and achievements in the field of commercial vehicle fleet management"
Tatyana Yatsenko, «Shell Lubricants» Company
"Exchange of experience and relevant information is a key factor of the own organization development. This is especially useful for companies with ambitions of entering the international market. Today our company steadily develops markets of Azerbaijan, Georgia and Kazakhstan offering a completely new product based on innovative technologies. That's why the experience of other international companies is invaluable for us."
Ruslan Agrba, International Business Director of Benish GPS
During the conference there were not only useful reports and interesting speakers but also pleasant gifts and lottery prizes from Benish GPS and event-partner the Gloria company. Soon you will be able to view the event photoreport and download the best speaker's presentation on the conference website www.fleet-conference.com.ua.