Prevention of warehouse theft with BeniLock

Almost thirty percent of failures in small businesses can be attributed to the theft of employees. This is undoubtedly a sad statistic for any entrepreneur. You must be prepared for such things and take preventive steps to avoid these 80%. The moment that your hard work and money disappear for the reason that hired employees steal, a rather grim foreboding of a catastrophe even for the most persistent entrepreneur.
Almost all commercial enterprises have something tangible – goods, products. Accordingly, there is a warehouse in which a substantial part of the company's assets is stored. Protecting such a warehouse is an important and popular task.
In this situation, the best option would be to strengthen the protection of the warehouse with the help of the existing solution – the electronic lock BeniLock, which allows you to remotely control the object when the owner does not have the ability to protect the storage location 24/7.
BeniLock is a lock that provides the transfer of object status data using GPS / GPRS and specialized software. After the owner has closed his trading point or warehouse with BeniLock, the lock immediately begins its work and transmits information about the state of the lock to a special data processing platform. Thanks to this, the client can monitor their property without leaving the house, from their computer or smartphone.
In the case of unauthorized actions, the owner will instantly receive an alert on his mobile phone or PC. Using the software, you can also create reports for different parameters, for all working locks, and for each individual.
Data that BeniLock registers:
Location of the lock;
Vibration when sawing brackets;
Impact of the lock;
Heating of the lock;
Authorized opening and closing of the lock.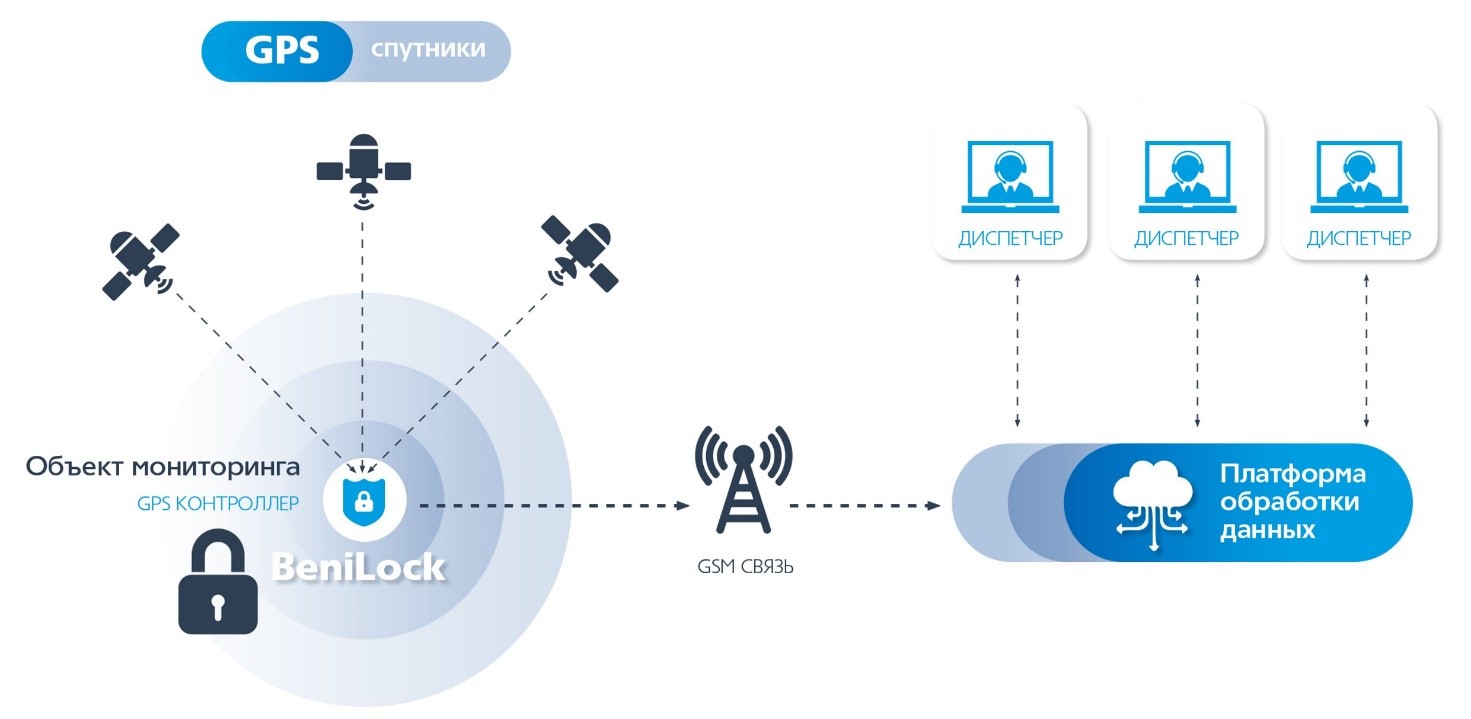 Принцип работы BeniLock
BENILOCK BENEFITS:
Monitoring. At any time of the day, you can be sure of the safety of the protected object, having looked at its condition in the application.
Simplicity and ease of use. The lock is ready for operation immediately after it is hung and operates without additional wires or sensors. You only need to regularly change the battery pack, which is enough for an average of 42 days.
Reliability. BeniLock is a combination of strong padlocks and GPS technology. The lock is almost impossible to cause mechanical damage, and the GPS transmits a stable signal even in bad weather.
To summarize, we can conclude that that the risks of theft in modern warehouses are high, but to effectively minimize these risks can and should be. For this, you only need to invest in security.
BeniLock is a convenient, simple, and reliable solution from Benish GPS, the functions of which can be effectively applied in any area of business.